DAVID JACOBS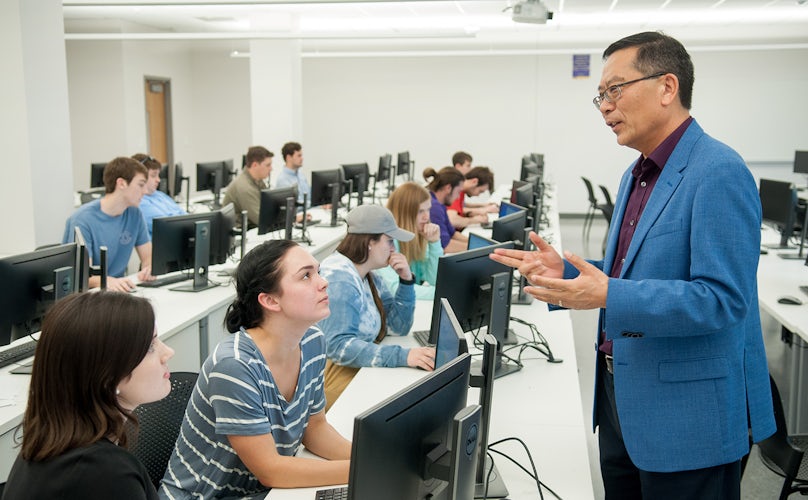 LSU Construction Management Professor Jonathan Shi, who is leading the university's new Industrial Innovation Center, speaks with students at the flagship campus in Baton Rouge. LSU is one of just 34 institutions across the country that have received a federal grant to establish an IIC. Photography by Don Kadair
---
In 2015, the federal government designated roughly 25 south Louisiana parishes—stretching from Lake Charles to Baton Rouge and down to New Orleans—as the "Louisiana Chemical Corridor." It's one of 24 Investing in Manufacturing Communities Partnerships across the U.S. Unfortunately, no federal dollars came with the label.
But the hope was that IMCP regions, having demonstrated a willingness to collaborate across the public, private and nonprofit sectors, would move to the front of the line when federal agencies were considering grant applications.
"By breaking down silos and encouraging communities to take a more thoughtful, comprehensive approach to their strategic plans, we are ensuring that precious federal dollars are used on the most high-impact projects and in a way that maximizes return on investment," former U.S. Secretary of Commerce Penny Pritzker said when announcing the IMCPs.
"It's a win for the companies, it's a win for the students involved and it's a win for the university. The big thing would be to get industry more involved with the university." —Charlie D'Agostino, executive director, LSU Louisiana Business & Technology Center
Last November, the Louisiana Chemical Corridor partnership notched its first win, when the Department of Commerce granted $498,624 to establish an Industrial Innovation Center at LSU. Of the more than 215 organizations nationwide that applied, LSU was one of 34 to receive a grant meant to "make U.S. communities, businesses and the workforce more globally competitive." Two other Louisiana entities benefited from the same round of grants: Baton Rouge's Research Park Corporation received $250,000 for its Louisiana Deal Flow Accelerator, while the New Orleans-based Propeller Social Impact Equity fund got the same amount.
The IIC at LSU will host an "innovation think tank" of engineering experts at the university who will work with the region's plant operators and industrial contractors to identify their needs, explains Jonathan Shi, the LSU construction management professor who is leading the project. The group will connect users with "innovators," possibly university researchers or private sector inventors, who can address those needs. Louisiana Economic Development and the Baton Rouge Area Chamber, both coalition partners, may help recruit innovators from outside the region if necessary, Shi says.
"We start with the chemical manufacturing industry," he says. "We ask them, 'What are the needs for technology innovation?' We use those needs as a starting point."
It's not unusual for a company to pay LSU to develop a product or process, with the results of that research belonging to the company. The IIC will take a similar approach, except that the research will be meant to benefit the corridor as a whole, and the results will be shared by the various partners.
IIC projects will target three different user groups: Plant operators, industrial contractors, and a mixed group of owners, employers and training providers focused on workforce development. It will utilize and expand the resources available at LSU's Louisiana Business & Technology Center.
LBTC will provide space and LSU student interns, who can help with both the technological work and the business and marketing model for the product, says LBTC Executive Director Charlie D'Agostino. A chemical engineering student might have the chance to work with a chemical manufacturer for two years and be trained in the company's culture, ready to hit the ground running with a job after graduation.
"It's a win for the companies, it's a win for the students involved and it's a win for the university," D'Agostino says. "The big thing would be to get industry more involved with the university."
The research topics have not been selected. Lee Jenkins, executive manager with Performance Contractors, suggests early projects could focus on efficiency and "improving deliverability of products."
"My first thought was, 'How can this help LSU, and how can this help fund some positive research activities and programs that can really benefit our industrial community?'" Jenkins says. "I think it is absolutely a source of connectivity between all those involved."
The recent growth spurt for the state's industrial sector has leveled off, he says, partly due to low oil prices. But he's "cautiously optimistic" for the future.
Chemical manufacturers tend to focus on developing their own products, processes and employees, says Tom Yura, who manages BASF's plant in Geismar.
"It's sometimes very hard to get going on innovation when it's a broad, general topic," he says. "Having this institute to work on general information and general innovation … is something we just have not had."
Take workforce, for example. As employees retire or leave the industry, plant operators and contractors want help researching and developing solutions to find and prepare the next generation of workers. Energy efficiency, water usage and environmental sustainability also could be on the agenda, Yura says.
The IIC at LSU is the first outgrowth of the Chemical Corridor coalition's work as a federal Investing in Manufacturing Communities Partnership. Future projects might focus on "smart manufacturing," in which real-time information and analytics are used to make chemical manufacturing processes more efficient, Yura suggests.
IMCP was an initiative of former President Barack Obama's administration. With new officials in charge of the federal bureaucracies, will the designation still matter?
"If you can provide certainty about the new administration, let me know," Yura deadpans.
But participants are working on the assumption that the IMCPs will still be relevant in the years to come. Promoting domestic manufacturing is a cornerstone of President Donald Trump's economic agenda, so they hope his administration will support a program meant to make manufacturers more viable and create more American jobs.
---
FURTHER FUNDING
Only a month after the U.S. Department of Commerce awarded LSU a grant to establish the Industrial Innovation Center, the Department of Energy selected the university as one of 28 institutions to set up and operate regional Industrial Assessment Centers. Like the Industrial Innovation Center, it will be directed by LSU construction management professor Jonathan Shi. LSU engineering faculty and students will assess small- and medium-sized manufacturing business partners, defined as having gross annual sales less than $100 million, fewer than 500 employees and annual energy bills between $100,000 and $2.5 million. In exchange for hosting the hands-on training opportunities, the manufacturers receive an assessment they can use to improve their operations. LSU's grant is worth almost $1.5 million over five years, subject to ongoing congressional appropriations. A total of $35 million was awarded to the 28 institutions, with LSU receiving the 11th-highest grant. The U.S. Department of Commerce says the 28 institutions will "provide site-specific recommendations to small manufacturers with opportunities to improve productivity, secure information, reduce waste and save energy while providing training for undergraduate and graduate engineering students in manufacturing processes, energy assessment procedures and energy management systems."
HOW TO GET INVOLVED
Interested in participating in the LSU Industrial Innovation Center, either as part of a user group charged with identifying needs or as an innovator responsible for meeting a need? You can contact director Jonathan Shi at jshi@lsu.edu, or business manager Rebecca Harris at rharris@lsu.edu. More information can also be found online.